Noticed that food here in Singapore is a celebrity in its own right. During my six months stay here, I have realized I have learned to love the food. So to share with you, here's my list of top best food to eat here in Singapore which you can find in any hawker around.
Though some of them I haven't tried but heard that it is good as heaven.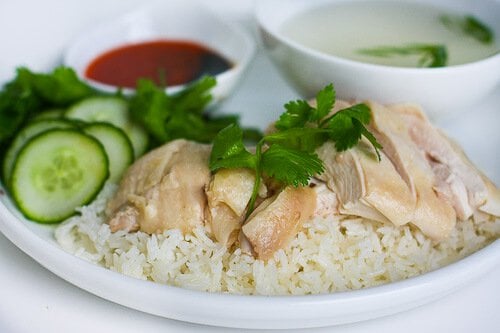 Initially, I found this dish as overrated as the Merlion. But as I stay longer, I have loved it just like the locals and foreigners alike. If you ask around which is the most famous Singapore food, chances are, people will reply with either chilli crab or chicken rice.
As mentioned, Chilli Crab is probably the most famous Singapore food. It is the face of Singapore Cuisine, the must-try food for tourists. You cannot visit Singapore without having Chili Crab. There are many Chinese seafood restaurants in Singapore serving this popular dish but I read in one of the blogs that the Chili Crab in No Signboard at Geylang is the best.
Fresh meaty crabs in a spicy-sweet chili sauce with deep-fried mantou – this is one of the most satisfying experiences in life.
Kaya is a coconut jam made from coconut milk, eggs which are flavoured by pandan leaf and sweetened with sugar. It is easily one of the best jam spread ever created.
Spread the kaya on the toast with a generous slab of butter – this is a very delicious thing for breakfast, tea, or supper. All you need is kaya toast, soft-boiled eggs and a cup of coffee.
There are plenty of tropical fruits to eat in Singapore, so it is a good idea to head to the markets if you are not from the region. Some of the must-try fruits are: rambutans, mangosteen, longan, lychee, durian, and mango.
Even though I hate durian, I think it's a pretty cool experience to visit Geylang and sit by the roadside to try the king of fruits.
Fish Head Curry is a dish created by Singapore's Malayalee. Cooked in a hot and spicy Indian curry, the large fish head is usually eaten with white rice or bread. Try the one from Muthu's Curry at Race Course road.
Have not try this though.
Laksa has a rich coconut-based curry soup with rice noodles alongside ingredients like cockles, shrimp, tau pok and fish cake.
The first time I had a bowl of laksa (many years ago) was a total revelation. It was like taking a plane for the first time; the first sip of champagne, or having the first ever taste of foie gras. It was something very special.
Without a doubt, Laksa is one of the Singapore's must-eats but then I will need to try this out yet.
Zi Char (also known as Zhi Char/Cze Char/Tze Char) is a Chinese stall (in a coffee shop) that serves a variety of ala carte dishes at affordable prices. Different 'restaurants' have their own unique signature dishes, but a typical zi char place will usually has the following: meat items – pork ribs, har cheong gai ($8 – $20); vegetables – sambal kangkong, kailan ($6 – $12), side dishes – beancurd, noodles, rice ($4 – $20) ; and seafood – prawn, fish, crabs ($15 upwards).
There are many good zi char places in Singapore, but I'd recommend Holland Village XO Fish Head Bee Hoon (for har cheong gai), Keng Eng Kee Seafood and for a slightly more upmarket option, Ming Kee Live Seafood.
Peranakan Cuisine, also known as Nyonya food, is the result of blending Chinese ingredients and wok cooking techniques with spices used by the Malay/Indonesian community. There are plenty of Peranakan restaurants in Singapore serving fantastic nyonya food, you can check out the fairly new Candlenut Kitchen by Malcolm lee – one of the up and coming chefs in Singapore; and Ivin's – a popular and no frills place for families to have dinner.
Hong Kong
might be the land of dim sum, but I feel that some restaurants in Singapore serve very good dim sum too. I'm sure everyone knows by now: my favourite
dim sum restaurants in Singapore
are Royal China at Raffles Hotel, Yanting Restaurant at St Regis, and Taste Paradise at Ion Orchard. I should go to these places one day.
The stir-fried noodle is artery clogging, but it is very, very tasty! For me, the best char kway teow in Singapore will be the one from
Zion Road
. You MUST EAT it is always I heard they say.
Cereal Prawn
Recommended by my best friend and tried myself. And I was never disappointed. My love for prawn dishes has just grew a leap higher.
Prawns fried, flavored and sprinkled with cereal is the by far the most expensive and delicious food that I have tried. But boy, it will never let you down.
Hookien Mee
When I went home in the Philippines last March, this is the only thing I missed eating and smelling. The unique flavor brought by the combination of different spices like togue, squid, prawn and other seasoning is simply delectable.